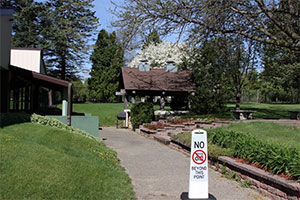 Krueger-Haskell Golf Course defines a golf outing as any event which involves 20-160 participants. We can accommodate more.  Please call the clubhouse for details.  Any group, organization, or business may apply for a Golf Outing at the Krueger-Haskell Clubhouse. All outings will enjoy top notch hospitality and accommodations provided by our staff to ensure a positive experience for everyone in the outing.
The staff at Krueger-Haskell adds a special touch to your event by providing the following items:
Personalized Cart Signs
Scorecards on each cart
List of hole events on each cart
Registration Area
Hole event markers placed on course and picked up by rangers
Hole sponsorship signs placed on course and picked up by rangers
Scoring is available upon request
Dining and Banquet Facility
The concessions are handled by Coach's.
A beverage cart is available upon request.
Our Clubhouse also features an outdoor grill that is great for Steak Fries after your golfing event!
Only food and beverages purchased at the Clubhouse are allowed on the Golf Course.
Inclement Weather Policy
As with any outdoor event there is always the chance that weather may cause the cancellation of your event. Rain does not constitute stoppage of play. Krueger-Haskell Golf Course will determine the discontinuance of play based on their experience and weather conditions.
Should circumstances beyond the control of Krueger-Haskell Golf Course result in closure of the course during a groups scheduled event day, the following policy will take precedence:
1-3 holes completed – Full Rain Check
4-12 holes completed – Half Rain Check
13-18 holes completed – No Rain Checks
You will be expected to start your outing unless the course has closed. In the event of a complete cancellation Krueger-Haskell Golf Course will provide you with alternate dates to hold your outing.
Outing Fees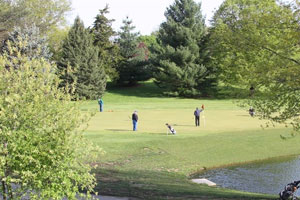 9 Holes: $17.95 plus tax
18 Holes: $29.95 plus tax
All fees include motorized cart.
Attire and Equipment
All players are expected to wear appropriate golf attire. Golf shirts must have collars and sleeves. Halter tops, tee shirts, and bathing suits do not constitute as proper golf attire. Metal spikes are not permitted.
Each player must have his/her own set of golf clubs. Krueger-Haskell does have a limited supply of rental clubs available.